Tolerance...
I found this flyer at a local laundry mat...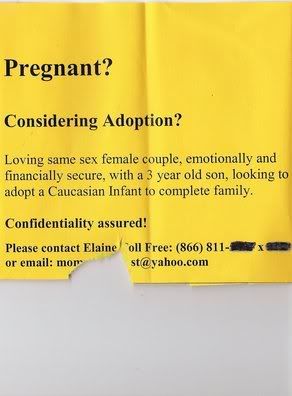 I guess the loving, same sex, couple is only loving of a
Caucasian
baby! I'm glad that confidentiality is assured because this premise is absurd.
Why does it seem that the very people who cry for acceptance and tolerance are the one's most likely to be closed minded? This couple would probably be the first in line if gay marriage was available, but to complete their family, a white baby needs to do the trick. Total hypocrisy.
And in a related story
An Alternative High School in Tompkins County has allowed a "club" for minorities. Now what's wrong with that? Well, any white kids who want to participate are not allowed to. And to make matters worse, a girl decided to form her own "club" for her fellow white kids at the school. She wasn't allowed to, and was threatened with expulsion. Hmmm, for doing the same thing as the other classmates?
Tolerance is supposed to be accepting of one's beliefs without judgment. These two cases show we are a long way from true tolerance. In fact, most people seem to enjoy living in their hypocritical bubble.