Teacher Pleads "Not Guilty"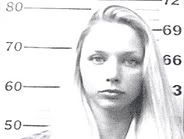 today accused teacher Pamela Rogers' attorney pleaded not guilty at her arraignment. a trial date has been set for November 15.
Rogers(above) is accused of having a sexual relationship with one of her students, aged 13. if convicted, she could face up to 100 years in jail.
> In Related News
in Sacramento, CA, a 30 year old teaching intern was arrested for engaging in a sexual relationship with, guess what, one of her students.
according to Sacramento Police, Margaret De Barraicua and the student, 16, are believed to have been having an ongoing consensual sexual relationship for several months. including in her car, while her toddler was strapped in to the car seat in the back!
the toddler, aged 2, has been released to De Barraicua's husband and she is on paid administrated leave from the school pending the ongoing investigation.
before being an intern, De Barraicua worked in the district for about two years as a substitute teacher. interns do undergo the same background checks as regular teachers.
police do not believe De Barraicua abused any other children, seeing this as an isolated case. uh, huh. explain that to all of the other students that have been taken advantage of over the last several months. something needs to be done in order to protect these students and any others in the future. the playground shouldn't be a "pick up" spot.
home schooling is starting to sound better and better.